10 Things You Should Know About Getaway Golf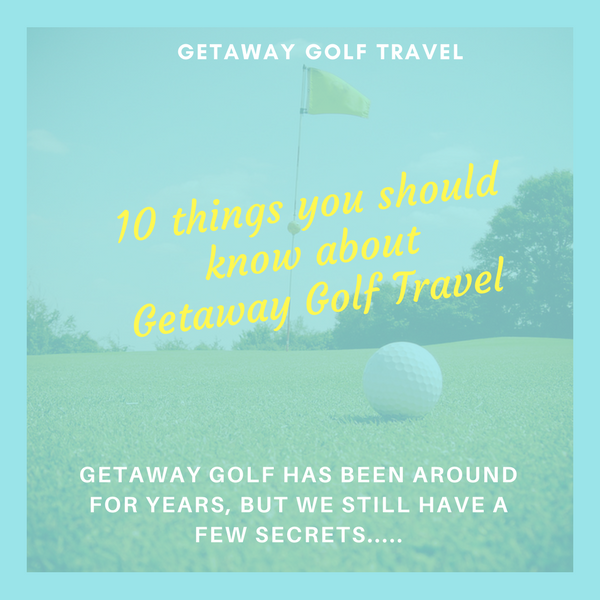 Getaway Golf Travel has been around for over 20 years but we're pretty sure there are a few things that you still don't know about us. So here is a list of the top 10 things we think you should know….
1. WE KNOW GOLF! With over 20 years experience and an extensive network of golfing contacts we can get you on almost any golf course in the WORLD!
2. WE ARE GOLFERS! Golfers are crazy when it comes to golf. With at least 1 of us on course at least once a week, we understand what Golfers want.
3. We are your GOLFING FAIRY GODMOTHER! Our attention to detail and exceptional customer service means all you have to worry about it keeping out of those water & sand hazards.
4. No call centres or recorded messages here. Talk to a golf and travel specialist every time.
5. Don't feel like golfing? Did you know we are a FULL SERVICE TRAVEL AGENCY that offers competitive pricing on airfares, accommodation, car hire, group and corporate travel and functions, guided tours and offers travel advice too.
6. We're old fashioned. We still believe that THE CUSTOMER IS ALWAYS RIGHT! And pride ourselves on exceptional customer service.
7. You're Unique and we understand that you have individual needs when it comes to booking your next holiday. EVERYONE IS A VIP to us!
8. No hidden fees and surcharges here. What you see is what you get with us, that's why our clients are loyal and book with us year after year.
9. WE VALUE YOU! Above all we care about your experience and go above and beyond to make sure your holiday is unforgettable for all the right reasons.

10. Our staff have a CAN DO ATTITUDE. As a small family owned business you matter to us.
So give us a call on 1300 187 255 or email info@getawaygolf.com.au today and experience the Getaway Golf Travel difference today.