What Makes a Good Holiday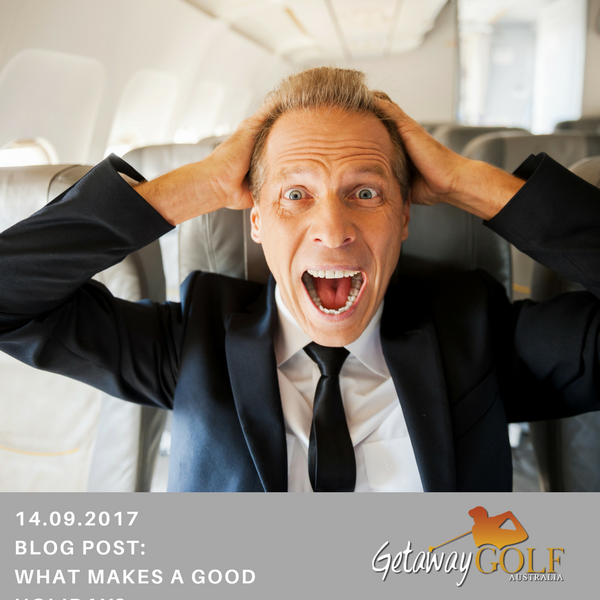 What makes a good holiday? It's all in the details…..
If you want to enhance your trip and make the most of your travel $$ then talk to me. I have over 22 years' experience in the travel industry so I know how to arrange and plan the perfect escape. Here at Golf and Leisure Travel we co-ordinate international holidays to include cruise, rail, safari and escorted coach touring. We're certainly ahead of the game when it comes to golf holidays but it's not our only area of expertise.
I've travelled to many parts of the world and still find that the same rules apply. Generally, we all want to experience the sights and cultural ambience portrayed in the glossy pages of the brochure we devour whilst planning our trip. We put ourselves 'in the picture' so to speak and are transported to the destination before we even arrive.
A lot of effort goes into the planning stage of your trip so overseeing 'the details' is paramount to making the most of your holiday experience.
Consider some of 'The Details' below to turn your international trip into a more memorable and easy flowing holiday experience
Assign preferred seating on flights before departure.

Pre-book airport lounge access if transit time is over 4 hours
Pre-book airport hotel if transit time is over 6 hours (Some airport hotels allow you to book 3hr and 6hr blocks). Shower, nap and feel refreshed before your next flight
Arrange early check-in at hotel so you can arrive at your destination and have immediate access to your room (pre-registering is worth it)
Ensure the location of all hotels is within walking distance to city centre or close to public transport
Put a currency conversion app on your smart phone
If meeting a group escorted or cruise departure book an additional night (pre-tour/cruise) to allow for possible flight schedule changes and to adjust to the new time zone
We all use our mobiles and devices to communicate with loved ones when away. Make sure you have enough mobile credit and switch off data roaming when overseas.
Make sure you contact your bank and inform them of your travel plans. Banks can block credit cards if they are used overseas without prior knowledge from the cardholder.
Budget to ensure you have enough local cash currency 'to get you started' in each country you visit.
Register your holiday plans with smarttraveller.gov.au and leave your travel itinerary with someone at home
Keep a photocopy of your passport and 2 passport size photos in your luggage. In the event your passport is lost or stolen it's easier to have it reissued if you have a copy of the original.
Next time you're day dreaming about cruising the Mediterranean, visiting Machu Picchu or the Fjords of Norway drop me a line and let me help you on your way.
Yours in travel,
Kim Jordan
Travel Manager – Golf & Leisure Travel / Getaway Golf Australia

Contact me by email kim@golfandleisuretravel.com or call me in the office on 07 5577 2122