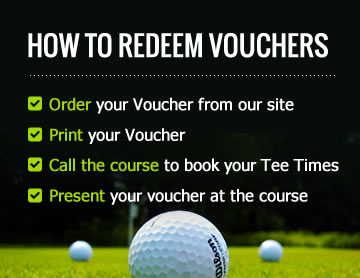 Noosa Springs Resort and Spa ( 07 5440 3333) - 7 days with carts
Voucher Details
The aim with Noosa Springs was to design a course that whilst not lacking in challenge was fun to play and took full advantage of its picturesque setting. The result is a strategic layout that offers the full gamut of hole lengths and shot values. There are heroic play options for those willing to take a risk to lower their score, however, all players should enjoy a fair challenge and eminent golfing experience.
Golf Course Info
The course is rated one of the best in Australia. Special attention was given by our golf course architect, Graham Papworth, to preserving and enhancing the natural environment. The undulating fairways are set amongst lush bushland that is home to an abundance of wildlife, making golf at Noosa Springs a unique experience.
Course Address
Links Drive, Noosa Heads QLD 4567
Course Length
Phone Number
07 5440 3333
Website
www.noosasprings.com.au
Terms & Conditions
Tee Times are subject to availability. Call the Golf Course prior to purchasing golf vouchers.
Voucher valid for play 7 days a week including motorised cart.
Voucher valid for 6 months from date of purchase.